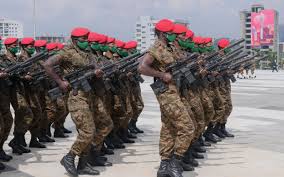 Ethiopian National Defense Forces set to disarm 'Fano Fighters'
The Ethiopian National Defense Forces (ENDF), in their special meeting on Thursday, decided to disarm the Amhara Popular Force otherwise called 'Fano Fighters'
According to information reaching Zegabi.com, ENDF will disarm those 'black guns' which the Fano fighters took away from Tigrayan troops during the fighting between each other in the previous months.
TPLF forces claimed they had amassed the 'black guns' and other large numbers of modern weapons from the national army whose troops were retreating town after town all the way from Raya Alamata, over 700 kilometers north of Addis Ababa  to Debre Berhan, about 130 kilometers away from the capital.
The Fano fighters were denied access to weapons as the TPLF forces were engaged in targeted killings, looting and raping of thousands of ethnic Amhara people.
It is not clear why the federal and Amhara governments have conspired against the Fano fighters who played a big role in defeating the invading Tigrayan forces three months ago.
The Amhara Popular Force in a statement called on the Fano fighters to be alert and united to resist the disarmament.
It is to be recalled that at least six members of Amhara special force were killed as fighting between  'Fano' and the Amhara regional special force intensified this week in Mota town.
The fighting began after the regional force tried to disarm the fano fighters and killed Mezgebu Walelegn, one of the leaders of the popular force.
Meanwhile, reports said TPLF is sending tens of thousands of people to Amhara region as refugees with hidden agenda.
Currently more that 50 thousands of Tigrayan refugees arrived in Ethiopia's Amahara region, fleeing critical food shortages in their places.