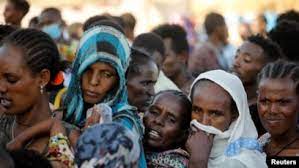 Ethiopia-Thousands of Tigrayan refugees arriving Amahara region
Thousands of displaced people have continued arriving in Ethiopia's Amahara region every day from neighboring Tigray region, fleeing critical food shortages in their places.
The Tigrayan refugees told local media that they were accorded a warm welcome from the people and government of Amhara region as opposed to their expectations and wrong rhetoric they were told by the ruling Tigray People's Liberation Front (TPLF).
The refugees have confessed that the people in the Tigray region are undergoing worse sufferings due to shortage of food and abuses by the TPLF forces.
The refuges accused TPLF of committing genocide against its people. According to the refugee,   they had been denied to leave their areas and sometimes the regional forces could take severe measures including killings against refugees who were leaving the region.
The refugees demanded the federal government to enter and exterminate the TPLF forces and free the people of Tigray.
Meanwhile, one of the prominent military commander of TPLF General Megebe Yohannes is wounded amid the fighting with Afar forces in Kuneba front, sources told Zegabi.com.
TPLF troops who surrendered to Afar forces confessed Megebe's injury.
In another development, minor violence broke out in Addis Ababa University main campus after police beat ethnic Amhara students who participated in the celebration of the 126th anniversary of Adwa Victory on the premises of the country's first university.
The university has officially announced that students are not allowed to wear T-shirts with photo printed of emperor Menelik II.