Kenya Launches Historic Railway Project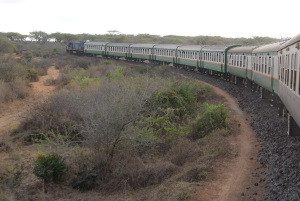 The President of Kenya, Uhuru Kenyatta, today launched a massive railway project, which he described as a "historic milestone" for the nation, according to a report by AP.
The $13.8 billion railway line will link Mombasa and Nairobi, and will also connect Kenya to Rwanda, Burundi, the Democratic Republic of Congo as well as South Sudan. The first phase of the railway project, being undertaken by the Chinese-government owned China Road and Bridge Corporation, is expected to be completed by 2017.
Upon its completion, the railway will advance business in east Africa by easing trade and making the region a desirable destination for investors.
Several Kenyans have hailed the initiative, which is the largest government infrastructural project since the country's independence in 1963, as an economically sound decision. Pundits say the success of this project will undoubtedly increase the popularity of President Kenyatta among his people—hopefully in time for the next elections.
Speaking at the groundbreaking ceremony, Kenya's President acknowledged the support of the Chinese government and expressed gratitude to the Chinese leader Xi Jinping. China is funding the first phase of this project—a 280 mile railway line from Mombasa to Nairobi—with about $5.2 million.
President Kenyatta noted that Kenya depends primarily on road transport, adding that this railway line connecting several nations will deliver "the promise of prosperity to all our east African peoples."
Kenya's colonial 'lunatic express' constructed by the British in 1901, had played an important role in the first East African Community (EAC), which was dissolved in 1977. Pundits say this new railway line is expected to play a role just as important as the 5 member states of the new EAC have plans of establishing economic ties which will undoubtedly unite the people of the region.
Photo: Kenya's old railway line which connects the port city of Mombasa with the nation's capital Nairobi.