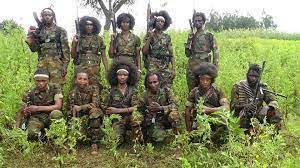 Ethiopia: OLF-Shene takes control of four districts in Guji zone
Forces of the Oromo Liberation Front otherwise called 'OLF-Shene' have taken control of four districts in Guji zone of Ethiopia's Oromia regional state.
The advancing OLF troops were met by the strong national army and the Oromia Special Forces   to defend the remaining 14 districts of the zone.
Eyewitnesses told Zegabi.com that the OLF troops so far have controlled Wadera, Goro-Dolo, Gume-Aldelo and Seba-Boro districts.
"There are high security risks in the districts particularly in rural areas as the 'Shene' which the Ethiopian parliament designated as a terrorist organization is engaged in killing of civilians and arbitrary detentions,"the witnesses said.
The eyewitnesses also indicated that there is no government's administrative structure in Adola-Redena district and its environs.
The Amharic Reporter quoted residents in the area as saying that "the federal army, police and regional security forces have been deployed but they seemed to have missed exact location of OLF fighters."
Guji Zone Government Communications head Yohannes Olko said the security situation in the zone is deteriorating over time.
He confirmed that the OLF forces took control of the districts where they are demanding ransom for their undisclosed number of captives.
Meanwhile, the Tigray People's Liberation Front (TPLF) which is fighting the government in northern Ethiopia have either retreated or withdrawn from almost all districts of Afar regional state after it had killed many civilians, inflicted heavy damage and looted cattle of the Afar people.
The TPLF forces, however, have launched new offensives in Waja-Timuga areas in Amhara regional state where they suffered heavy defeats by the well organized Amhara Fano fighters.