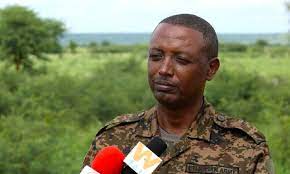 Referendum over ownership right of Wolkait, Humera is not acceptable- Official
A referendum proposal over ownership rights of Wolkait and Setit Humera zone is not acceptable, Colonel Demeke Zewedu -Deputy Administrator of the Zone has said.
Speaking to local media, Demeke who is also Security Head of the zone said the federal government should approve the official return of the zone to the rightful owners and allocate budget to the zone.
He said there is no legal or historical ground that the zone was part of the Tigray region and a referendum proposal that come from any party including the  government is not acceptable.
According to Demeke, referendum would be a violation of the rights of the inhabitants of the Amhara region.
Colonel Demeke accused Ethiopia's Ministry of Finance of holding the budget that was supposed to be allocated to Wolkait, Setit Humera zone and other liberated areas from TPLF's rule.
The government of Ethiopia has demonstrated  reluctance to allocate budget to the Wolkait, Tegede Setit Humera Zone and other liberated areas, while spending billions of dollars in the Tigray region since the beginning of the war.
Accordingly, the zone is face with absence of electricity, water, banking, telecom and other services.
Meanwhile, The Afar fighters have foiled the planned suicide bombing attacks against soldiers of the National Defense Forces Dadkoma locality in Afar region.
The Afar fighters captured two of the four suicide bombers, recruited by the TPLF. Two of the suicide bombers were killed in a cross fire.