Sudan Experiences Bread Shortage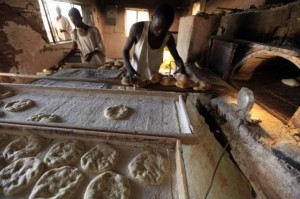 Sudan is currently experiencing a shortage of bread due to a lack of foreign exchange for wheat imports.
Residents have been spotted standing in lines outside several Khartoum-area bakeries following an increase in the price of bread by about a third. One Sudanese pound ($0.18) can only purchase three loaves of bread as opposed to four loaves previously.
Khalifa Hassan, a resident of northern Khartoum who was waiting in line with 10 others said "For the last three days I have to spend at least two hours a day waiting for bread."
If this continues, people will not keep silent," he added.
Bakers are blaming the shortages on last week's short-lived devaluing of the Sudanese pound which has caused a shortage of foreign currency for wheat imports. Some bakers say they are only receiving half the amount of wheat that they normally get from the flour mills.
"They blame Sudan's central bank for failing to provide foreign currency to import wheat," said the head of the bakeries union, al-Tayeb al-Umraby.
Sudan does not produce enough wheat to meet its needs despite its prized fertile land and constant water supply from the Nile River. According to the Ministry of Agriculture, the country imports nearly 1.5 million tonnes of wheat annually. The government also subsidizes the rate at which wheat importers obtain foreign currency to purchase the grain from Canada and other countries.
Vice President Ali Osman Taha has directed officials to ensure that the flour mills receive enough wheat. State Minister of Finance Magdi Yasin has also announced that wheat imports "will continue, in coordination with the central bank and ministry of finance," after a meeting with the Vice President and other officials on Tuesday.
Safwat Fanous, a political analyst from the University of Khartoum says the government fears that a further increase in bread prices could trigger anti-regime demonstrations similar to those experienced in September.
Violent protests broke out following the elimination of fuel subsidies and doubling of pump prices over night. Dozens of people died and 700 others were arrested in the riots, prompting the government to delay its plans to reduce wheat subsidies. Both subsidy cuts are reported to be part of the government's strategy to deal with the current economic crisis.
Sudan lost thousands of dollars in oil export earnings following the cessation of South Sudan in 2011. Since then Sudan has experienced increasing inflation and a declining Sudanese Pound. Inflation officially reached 40 percent last month.