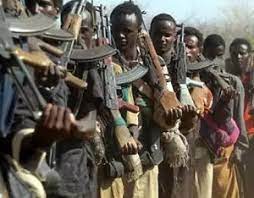 OLF massacres 168 civilians in western Ethiopia
The Oromo Liberation Front (OLF) has massacred 168 civilians in Gidami district, Qelem Wellega Zone in Ethiopia's Oromia regional state.
A mass grave in which the bodies of 81 civilians were buried has been uncovered while 87 others were collected from different places, the zone's administrator Ibssa Besha told Ethiopian Press Agency On Monday.
Ibssa said the district is now cleared from the OLF troops in a counter offensive launched by Oromia security forces.
Eyewitnesses, however, said the OLF troops are still available in the district, aggravating displacement of ethnic Amharas.
More than 5000 ethnic Amharas fled to Debere Berhan town fleeing the targeted attacks in the district.
The OLF troops also known as "Shene" destroyed or looted 30 government offices in the district, the administrator has said.
Meanwhile, fierce fighting is going on in Koneba and Berhaile districts of afar region between Tigray People's Liberation Front (TPLF) and Afar Special Force and Militia.
The Tigrayan forces have continued controlling more lands in Megalle, Abaala Konaba, Erebti, Berhaile districts in Afar region.
According to information reaching Zegabi.com the government troops are deployed in the three of the districts  and making counter offences.
The Tigray People's Liberation Front (TPLF) is set to launch a massive offensive operation dubbed as "Zemecha Yekatit" as of February 8, 2022.
TPLF has reorganized its military forces into seven armies and finalized preparations to launch the offensives.