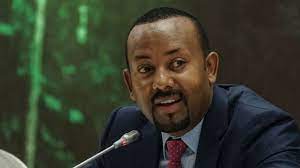 Abiy blames external actors for not making peace in Ethiopia
Prime Minister Abiy Ahmed has blamed external actors for not making the peaceful resolution of the conflict in northern Ethiopia.
He made the allegation while addressing the 35th Ordinary Session of the assembly of the Heads of States and Governments at African Union headquarters in Addis Ababa.
"Ethiopia's challenge was internal in nature and a matter of maintaining law and order. But resolution of our internal matters was made exceedingly difficult by the role played by external actors," the Prime Minister told the African leaders.
Appreciating the decision made by the African Union to decide to host the 35th AU summit in Addis Ababa, the government released high profile suspects with a view to creating a conducive environment for peace.
He said the government has implemented unilateral withdrawal from conflict areas and used force that is necessary to ensure law and order.
The United Nations Secretary-General of  António Guterres at the same meeting appealed for a cessation of hostilities, humanitarian access, and an inclusive national dialogue in Ethiopia.
Meanwhile, the Ethiopian Ministry of Health said it requires at least 36 billion birr to reconstruct and refurbish the health facilities that were destroyed by Tigrayan forces in Afar and Amhara regions.
The government however allocated only five billion birr for the reconstruction and refurbishment in stated regions.