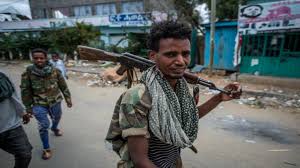 Fierce fighting continues in Berhaille, Konaba districts in Afar region
Fierce fighting between Afar forces and Tigrayan forces has continued for the fifth day in Berhaille and Konaba districts in Ethiopia's Afar region.
The Afar fighters pushed back the Tigray People's Liberation Front (TPLF) troops who attempted to control the districts using heavy weapons, witnesses told Zegabi.com
According to the witnesses, the Tigrayan troops are fighting at most effort to deter the advancing Afar Special Forces and Militia to Mekelle, which is located about 40 kilometers away from the districts.
The Ethiopian National Defense Force is not participating in the current fighting though TPLF forces continued attacking civilians both in Afar and Amhara regions,
The witnesses told Zegabi.com that TPLF forces are sending ethnic Amhara and Afar people including children to the war even without offering any military training.
Meanwhile, Oromia Police Commsion said an investigation in the reported killings of civilians in Fentale-Bost district by security forces is already in progress with undisclosed number of suspects in custody.
The announcement comes a day after the Ethiopian Human Rights Commission (EHRC) released its investigation report accusing security forces in the region of 14 members of Karayu Michille Gada on December 1, 2021.
The killings followed an attack by the terrorist-designated OLF-Shene on members of the police force which took the lives 11 officers and injured 17 others, the report says.
Speaking to the state-media Thursday, Girma Gelan, deputy head of the Oromia Police Commission, confirmed that the Commission knew about the deadly attack in the district.
Investigation into the killings has already been launched, Girma said, adding that suspects linked with the case are currently in police custody.
The deputy Commissioner said the Police chose not to speak about the investigation as it was still ongoing.