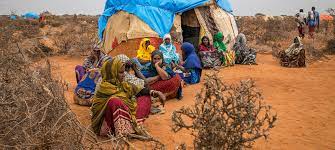 Severe drought hit Ethiopia's Somali, Afar,  Oromia regions
Severe drought has hit Ethiopia's lowland regions of Afar, Oromia, and Somali regions, killing livestock and crops and pushing hundreds of thousands of children and their families to the brink of famine.
More than 6.8 million people in the three regions will be in need of urgent humanitarian assistance by mid-March 2022, UNICEF said on Thursday in a report.
The most severely impacted regions are the lowland areas of southern and eastern Oromia and Somali regions. There is a significant lack of clean water and the food security is deteriorating rapidly leading to an increase in malnutrition cases.
According to UNICEF three consecutive failed rainy seasons in low lands areas of ethiopia's three region's have caused the drought, drying up water wells, killing livestock and crops.
About 4.4 million people will be facing critical water shortages in Afar and Somali and Afar regions, according to UNICEF.
Prime Minister AbiyAhmed  Thursday visited drought-hit Borena zone of Oromia region in the second tour to most affected areas of Southeastern Ethiopia.
Among the initiatives expected to sustainably address the recurrent drought in the area are small-scale dam projects that are currently under construction, according to government officials said Abiy after the visit.