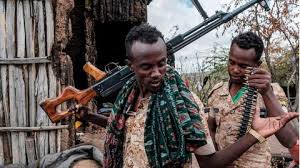 Tigrayan troops retreat as Afar forces step up massive offensives
Majority of Tigrayan troops, who had advanced in the recent days in the neighboring Afar region, retreated to Tigray following a massive counter offensive by Afar Special Forces and militia.
The retreat came after four of their war leaders surrendered to the Afar forces and other 80 TPLF troops submitted to the same on Wednesday morning.
The TPLF troops launched fresh offensive in Waja and Timuga areas too but were pushed back by Amhara Special Forces and Militia. Many TPLF troops were routed by air strike on the Raya front.
Raya Alamata, however, remains to be a stronghold of the Tigrayan forces since two months after the government announced the end of the second operation against TPLF forces.
Witnesses said the front has built concrete fortress in Chercher, Balla, Gotu-Gedera, Umo-Maru, Keren Kube-Tafe, Chamaro, Qaesole Kao, Addis-Qkign, Kosum, Bandjara localities etc in Raya, displacing thousands of people from the localities.
Meanwhile, the United Nations' Secretary General on Tuesday made the "strongest possible appeal" for all parties in Ethiopia to immediately end the fighting in Tigray and other areas, in the spirit of the General Assembly's Olympic Truce which began just a few days ago.
Speaking to journalists in New York, António Guterres said that it would allow for effective humanitarian access and relief to all affected populations throughout Ethiopia.
"And these actions will help pave the way to much needed  inclusive national dialogue involving all Ethiopians" he added, noting that "the people of Ethiopia continue to suffer greatly from ongoing conflict and bloodshed."
As the UN chief prepares to leave for the Winter Olympics, he reiterated his appeal to all parties to follow the finest tradition of the Olympic spirit to save lives, overcome differences and find the path to real peace.