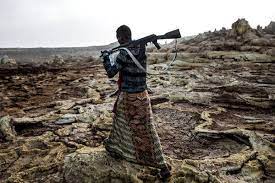 Afar forces clear invading Tigrayan forces from three districts
The Afar Special Forces and militia have cleared the invading Tigrayan forces from three districts in Afar region after heavy fighting.
Large number of TPLF troops in the region are either dead or in disarray, witnesses told Zegabi.com.
According to the witnesses, the drone attack against the TPLF forces changed the power balance in favor of the Afar Forces.
The TPLF forces who are concentrated on one place in Erebti district, have been firing heavy weapons, the witnesses said.
Information reaching Zegabi.com said that TPLF military leaders, however, are reorganizing new recruits for another offensive in the region.
Meanwhile, heavy fighting is underway between TPLF forces against the Amhara Special force and Fano militia at Waja- Timuga area in the Amhara regional state.
The National Defense Force has taken part in the latest fighting in Raya Kobo where TPLF has deployed its large number of troops.
Meanwhile, reports say the government is negotiating with TPLF in Nairobi, delgating General Bacha Debele as a chief negotiator.
The government's decision to negotiate with TPLF has outraged the public. Majority of Ethiopians are also expressing resentment over the government's move to disarm irregular security forces like Fano amid growing security threats from TPLF forces in Amhara region.
On the other hand, Ethiopians have been criticizing the government for failure to provide citizens security and the right to live, and work in different parts of the country.  The list of massacres by armed groups in Wellega zones of oromia region are the major cases to mention.