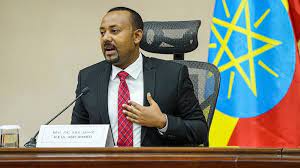 PM Abiy dismisses rumors his government betrays Amhara people
Prime Minister Abiy Ahmed on Sunday dismissed rumors that his government has betrayed the trust of the Amhara people.
He made the rebuff while imparting information to representatives of the Diaspora on the release of the Tigray People's Liberation Front (TPLF) leaders and government's recent political and military decisions.
He said the Amhara people have regained the Wolkait area as the counter offensives against TPLF have been intensified
Abiy said the Amhara people are presently doing well in the counter offensive which helped people in Wolkait regain their identity.
TPLF had annexed Wolkait by force from the Amhara about 30 years ago but returned to right owners after the law enforcement operation started in November 2020.
"There is ample evidence that Wolkait is part of the Amhara region. This will be revealed when the other part of the national palace is open for the public shortly," Abiy told the diaspora community.
He said the release of Sebhat Nega has angered TPLF leaders most because by releasing him and some others from prison, we gained lots of advantages including winning the chance to organize the AU summit next February.
"I was named as 'Hero' when I led the fight against the TPLF advance." After a month, however, people referred to me as a "dishonest leader" Abiy said.