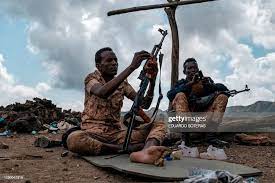 Afar Regional Special Forces repel fierce assault by Tigrayan fighters
Afar Regional Special Forces and militia have repelled a fierce assault by Tigrayan fighters seeking to control Kalbertiresu, Abaala and Megalle areas, witnesses have said.
The Tigray People's Liberation Front (TPLF) troops sought to push the Afar forces by firing heavy artillery but did not succeed to control the areas – now effectively besieged by Afar Special Forces and militia.
Heavy fighting is underway in Abaala, a border town in Afar region with about 40 kilometers away from Mekelle, capital of the Tigray region.
The Tigray forces have attempted to gain lands in Chewbere and Zarima areas but were pushed by Amhara Special Forces and Fano fighters.
There has been exchange fire in Wolkaite front using heavy weapons, the witnesses have said.
Meanwhile, the UN Secretary-General Anonio Guterres said he was "delighted" to learn that "a demonstrable effort is finally underway" to peacefully resolve the more than a year-long conflict in northern Ethiopia.
In a statement released on Wednesday by his Spokesperson, António Guterres spoke on the phone with the former Nigerian president, Olusegun Obasanjo, who is also the African Union's chief envoy to the Horn of Africa. They exchanged views on the conflict that has affected millions of people across the country and the rest of the region, since fighting began in northern Tigray, in November 2020.
Obasanjo has been shuttling between the parties since he took up his post in August, trying to build support for a cease-fire and talks.
In the call, Obasanjo also "expressed optimism that there is now a real opportunity for political and eplomatic resolution of the conflict.