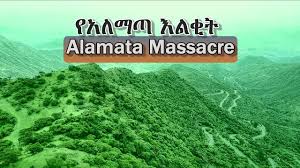 TPLF troops massacring ethnic Amhara boys in Raya- Alamata, Waja, Timuga areas
The Tigray People's Liberation Front (TPLF) troops engage in a targeted brutal massacre against all boys as young as five year old in Raya- Alamata, Waja, Timuga and surrounding areas, witnesses told Zegabi.com.
The troops also discriminately raped ethnic Amhara nuns, wives of priests and girls as young as five year old and eventually executed them.
Churches and houses belonging to ethnic Amhara people have been burned down by the TPLF forces across the stated areas, the witnesses have confirmed.
The government in Addis Ababa prefers silence as the genocide against ethnic Amhara people unfolds in Raya and other TPLF controlled areas.
The Tigrayan troops have raped the children and old mothers to death. The troops are using rape as weapons to brutally kill the young girls and mothers.
Majority of the residents had preferred to stay at home while the Tigrayan forces recaptured Raya- Alamata, Waja, Timuga areas without any fighting in the early days of this New Year.
The Amhara Special and Fano forces that are not armed with heavy weapons unlike the TPLF forces reportedly regrouped and launched a counter offensive.
Until this writing, the national defense forces that are stationed in Kobo have made no reaction to defend the innocent civilians. The excuse was that they did not receive orders from Addis Ababa.