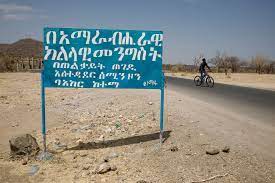 Ethiopia: Ethnic Tigrayans to resettle in Wolkait
Ethnic Tigrayan residents who had been resettled in Wolkait zone in 1991 but left for Tigray region and neighboring Sudan during the 14-month conflict are to return to Wolkait.
Information reaching Zegabi.com said the resettlement will be made based on the suspected agreement reached between Prime Minister Abiy Ahmed and the United States with the consent of the Amhara regional government.
The United States is supposed to cover logistic and rehabilitation costs of the returnees, it is learned.
Hundreds of Tigrayan refugees in Sudan are accused of participating in the massacre of more than 1000 ethnic Amharas in Mai-Kadra and fighting against the Amhara and Ethiopian National Defence Forces.
Meanwhile, the African Union's special envoy for the Horn of Africa, Olusegun Obasanjo held talks with Tigrayan leaders and Ethiopian officials in a renewed attempt to mediate the long running conflict in northern Ethiopia.
Last November, Obasanjo, also former Nigerian president said he was hopeful that dialogue can end Ethiopia's long running war, but warned that "such talks cannot deliver" without an immediate ceasefire.
The former Nigerian president was leading an international push to end a conflict that has cost thousands of lives and displaced more than two million people.
Obasanjo is now in Addis Ababa after completing his discussion with TPLF leaders.
In another development, TPLF troops in Adi Arkay town and surrounding areas in north Gonder zone are engaged in forced recruitment of youngsters to use them as human shields.