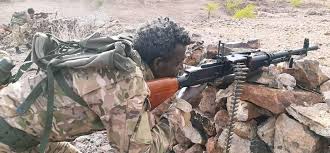 Ethiopia: TPLF troops advancing to Kobo for another attack
The Tigray People's Liberation Front (TPLF) has deployed well armed troops near Raya -Kobo for another attack against the Amhara region.
Information reaching Zegabi.com said the Tigray force in the Raya front is estimated to have a strength of 20,000 troops and took control of surrounding mountainous areas.
Witnesses said the National Defense Force makes no effort to stop the advancing TPLF forces claiming it did not receive orders from Addis Ababa.
TPLF fighters who were loaded on three trucks, however, were killed in an airstrike as they were nearing Kobo.
Currently, the TPLF forces are nearly in full control of Raya- Alamata as the government forces remain in defensive position for undisclosed reasons.
The Tigray forces have built up a long fortification in Alamata and killed several civilians targeting ethnic Amhara people. They are reportedly advancing to Lailibela too.
Meanwhile, Colonel Demeke Zewdu, Wolkait administration military wing head dismissed rumor that Prime Minister Abiy Ahmed's government has ordered the withdrawal of forces from Wolkait, a part of Gonder which the TPLF annexed to Tigray following the military takeover of power in 1991.
However, the TPLF still has a military presence in parts of the Northern Gonder including Adi Arkay town and surrounding areas.
According to confirmed local sources, places like Abaala in Afar region and Humera are once again under attack by TPLF forces by heavy artillery.