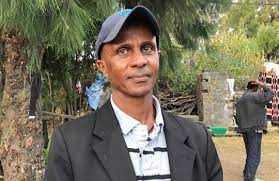 Ethiopia: Eskinder Nega, opposition party leader released
Ethiopian authorities Friday released the leader of the Balderas for Genuine Democracy Party Eskinder Nega, after they jailed him for another one and half year.
According to information reaching Zegabi.com, the government will release leading opposition figures Jawar Mohammed, Bekele Gerba both from the Oromo Federalist Congress (OFC) on Saturday.
The charges against the political party leaders had related to a wave of ethnic unrest that followed the murder in June of popular musician Hachalu Hundessa.
Their release came following the establishment of the National Reconciliation Council and mediation by Oromo elders between the government officials and prisoners.
None of them admitted guilt but accused the government of detaining them for no reasons but politically motivated.
Eskinder, the Ethiopian journalist, blogger and politician has been jailed at least ten times by the Ethiopian government on convictions for treason and terrorism.
Jawar was charged alongside 22 other individuals and one media house. It is not clear if the government released the other prisoners too.
More than 150 died in the violence after the ethnic Oromo performer was gunned down in Addis Ababa on June 29, 2020.
Meanwhile, the Addis Ababa Police Commission said it is releasing those individuals who were arrested for having alleged links with Tigray People's Liberation Front (TPLF).
The commission on its official facebook page said it also released ethnic Tigrayans who apologized for wrong doings and working with TPLF.