RDB Express Commitment to Develop Rwanda's SMEs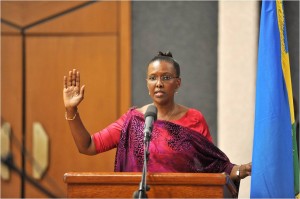 The Rwanda Development Board (RDB) has vowed to create conditions to promote the growth of small and medium sized enterprises (SMEs) in the country.
Speaking at a conference on the 2014 World Bank Doing Business report, Valentine Rugwabiza Sendanyoye, CEO of RDB, highlighted on the importance of SMEs to the Rwandan economy.
She said despite the gains the country has been able to record in the past few years, more needed to be done to support the development of SMEs.
"We will like to go deeper in our diagnosis of why some of SMEs are struggling to progress despite the fact that we are progressively tackling all these issues that have to do with improving the business environment," she explained.
The Rwandan government have since underscored the importance of SMEs to economic development—to this end, 8 major reforms have been made in the past few years to facilitate the creation of businesses.
These reforms are presumably part of the reasons why Rwanda's performance on the World Bank Doing Business 2014 report has been remarkable. In the recently published report, the east African country was ranked the 2nd country to have made the most improvements. Rwanda was also placed the 2nd easiest place to do business on the continent, and 32nd in the world.
According to the CEO, "It is not by a single effort of the RDB that our country has managed to make this impressive progress in the World Bank Doing Business Report, this was made possible due to combined efforts and due to the strong vision of the top leadership starting with H.E President Paul Kagame."
She added that the RDB is due to conduct a survey of SMEs to find out the major challenges preventing them from operating to their optimum.
Earlier in the year, the Rwandan government unveiled its "Hanga Umulimo" scheme, which is aimed at supporting the development of 300 SMEs selected from across the 30 districts of the country.
Besides governmental assistance, several banks and agencies including the African Developmental Bank, the Fund for African Private Sector Assistance and the European Investment Bank have entered agreements with local banks to provide loans at reasonable rates to potential business owners.
The focus on developing SMEs seems to be paying off for Rwanda–at the 2nd annual awards for the top 100 mid sized companies in Rwanda, co-organized by the RDB last week, out of the 280 participating businesses about 80% were completely owned by Rwandans.
Source: Rwanda Focus