Getaneh Kebede Joins Ethiopian Walyas for World Cup Play Off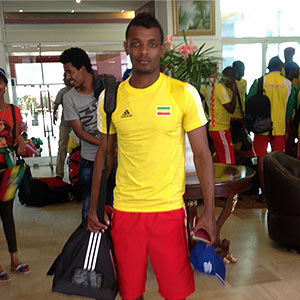 Ethiopian striker Getaneh Kebede joined his team-mates in training on Monday ahead of the November 16th march against Nigeria.
Getaneh arrived at the Walya camp on Monday from South Africa where he plays for Bidvest Wits.
The 21-year-old player appeared to have fully recovered from his most recent knee injury that caused him to miss the first leg of the World Cup play off, which ended in a 1-2 loss to Nigeria.
Fellow Ethiopian international players Saladin Seid and Shimels Bekele are also set to take part in Saturday's playoff, which will be held in Calabar, Nigeria.
Commenting after the arrival of the international players at the camp, Coach Sewnet Bishaw said "I am happy to have all my players in camp it gives me more option ahead of the Nigeria match.
"I am glad Getaneh has fully recovered from his nagging knee injury and his presence will be an added advantage for my attacking options," he added.
The team will travel directly to Calabar, Nigeria on Thursday aboard an Ethiopian Airline flight.