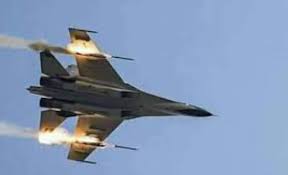 Ethiopia: Multiple airstrikes kill more than 100 TPLF fighters
More than 100 troops of the Tigray People's Liberation Front (TPLF) were killed in multiple airstrikes in Ethiopia's Adi Arkay, Maitsebri, Mai Leham and Mai-Dagussa localities.
Witnesses told Zegabi.com that TPLF fighters, however, have occupied more lands in the areas amid the drone strikes agiainst them since last week.
The residents in the localities have expressed concerns that the TPLF is threatening to control more areas following capture of Mai Gaba and Acholaki rural areas as the government forces remain in defensive position.
Unless the government launches counter offensive in ground fighting, it is unlikely the TPLF forces will be defeated in airstrikes alone, the witnesses have warned.
Meanwhile, death toll in the latest attacks in Dera district in Semien Shoa Zone of Oromia Region by Oromo Liberation Front (OLF) has reached 36. The number represented those victims whose bodies were laid to rest.
There are 28 others whose bodies have not been collected yet due to ongoing fighting between the Ethiopian National Defense Forces and the OLF force.
Eyewitnesses said the OLF troops have camped at a place called Hidebe Abote locality but they change their identity as ENDF took control of the  area using tips they got from some members of Oromia security officers.
OLF-Shene troops have burned 50 ethnic Amhara people to death in Weligalti locality at a special place called 'Wama' Sipusure district in Wellega Zone of Oromia regional state.
Niether the regional adminstration nor the federal government commented on the targeted massacre against ethnic Amhara civilians.