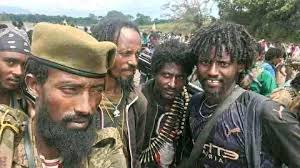 Ethiopia: OLF –Shene demands for ransom to release hostages  
The Oromo Liberation Front (OLF -Shene) has demanded millions of birr as ransom to release 14 officials it kidnapped from the Dera district in Semien Shoa-Oromia regional state.
The officials including Tesfa Tadesse, finance and economy head in the district were taken hostages during the recent attacks and raid against civilians and government officials.
It was later on learnt that the OLF Shene wanted ransom of 1 million birr for each captive but some of them were released on Monday.
Last Friday, the OLF soldiers killed at least 30 civilians largely farmers and wounded several others in targeted attack against ethnic Amhara people.
Residents in the district accused Oromia security forces of establishing links with the OLF-Shene to commit attacks against ethnic Amhara people.
The Ethiopian National Defense Forces (ENDF) reportedly  chased OLF fighters from the Dera district.
Fighting continues between Tigray forces and the Ethiopia army in three fronts namely Maitebri, Abaala and Adi Arkay fronts.
Meanwhile, 128,000 people were displaced from several localities of Guto Gida in of the East Wollega zone following days-long communal violence in the district.
Administrator of the district Alemayehu Tesfaye blamed 'a radical Amhara armed group', Benishangul Gumuz People's Liberation Movement (BPLM) and Oromo Liberation Army (OLA) to instigate the violence there.