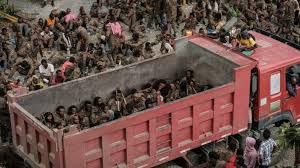 TPLF launches another 'human wave war strategy'
The Tigray People's Liberation Front (TPLF) has launched war against the Ethiopian army in at least three fronts using the 'human wave war strategy.'
Information reaching Zegabi.com said that the Front has deployed thousands of armed and unarmed people in an attempt to gain ground in Wolkait and Afar fronts.
Currently, TPLF is deploying more troops in Abergelle, Adi Arkay, Wolkait, Korem, Abaala areas for another "wide-ranging attack" in Amhara and Afar regions, according to witnesses.
In a counter offensive that took place on Sunday in Adi Arkay front, hundreds of TPLF troops were killed and several others surrendered to the Ethiopian army, the witnesses told Zegabi.com.
There are reports that the Ethiopian air force on Sunday bombed the TPLF forces that were deployed in Wolkait, Maitsebri and Sekota fronts.
The air force reportedly halted Tigrayan forces from using vehicles which continue to be major targets of air strikes, especially that of drones.
Reports further said no government security force available In Alamata town and ethnic Amhara residents in the town have suffered a lot.
Meanwhile, Omrakuba, a refugee camp in Sudan that shelters the Tigrayan "Samri" group has been destroyed by fire for the third time.
Majority of the 'Samri' refugees, however, had left the camp some months before and joined the war against the Ethiopian army with the full support from Sudanese government.