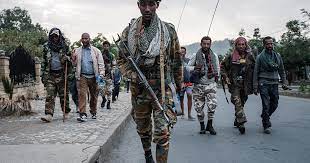 Ethiopia: Tigray  forces recapture Adi Arkay town
Tigrayan force has recaptured Adi Arkay town after a two-day fierce fighting against the Ethiopian joint forces. 
Information reaching Zegabi.com said heavy fighting continued to the west of Adi Arkay as the Tigrayan forces were trying to gain more ground and penetrate into westward direction. 
Witnesses said the TPLF troops are looting the town and using people in the occupied places as human shields. 
According to the witnesses, TPLF is deploying massive troops and heavy weapons near Tselemt  front in attempt to control Wolkaite,  according to witnesses. 
Thousands of TPLF troops, who entered into Waldba reportedly surrendered to the Ethiopian army after communications from the command center in Mekelle were cut off. 
The Tigray forces are accused of grave human rights violations including killings civilians in Adi Arkay and Alamata towns in northern Ethiopia. 
Meanwhile, the Oromo Liberation Front (OLF) force is threatening to cut off the main road linking the capital, Addis Ababa to the northern part of Ethiopia. 
OLF is gaining more lands in central Ethiopia and its troops reportedly enter the town of Fiche, about 130 kilometers north of Addis Ababa. 
Unconfirmed information said OLF's northward advance was halted by government commandos in the town of  Gebreguracha. 
It is to be recalled that OLF-Shene killed at least 30 civilians in the latest targeted attacks on ethnic Amhara people in Dera district in Semien Shoa zone Oromia regional state.