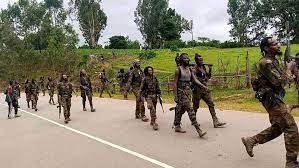 OLF- Shene kills at least 30 civilians in Dera district  
At least 30 civilians have been killed in a fresh attack against ethnic Amhara people in Dera district, Semien Shoa zone in Ethiopia's Oromia regional state. 
Armed men of the Oromo Liberation Front olso known as OLF-Shene committed the targeted attacks against the civilians who were largely farmers. 
The attack also left an undisclosed number of people wounded. Witnesses told Zegabi.com that thousands of people have fled the district following the fresh attack. 
According to the witnesses, the gunmen emerged from nearby Ejere locality where they have camped for several months. 
It is not clear why government forces did not chase them from the locality where they had been receiving logistical support from unidentified groups. 
Local people tried to defend using old firearms but were overwhelmed by the attackers who were armed with advanced weapons. 
Until this writing, the government did not deploy adequate forces to stop the advancing gunmen who had already controlled Gundomeskel, seat of the Dera district. 
Some members of the Oromia security forces are accused of collaborating or failing to discharge responsibilities as the targeted killings intensify. 
Meanwhile, more than 500 ethnic Amhara people were taken hostage by the Tigrayan forces from Alamata town in northern Ethiopia. 
The Tigrayan troops also are accused of looting of properties in the town after the government had failed to recapture the town and surrounding areas in its latest push against the Tigrayan forces. 
Hundreds of residents have displaced from Alamata to neighboring Kobo areas, fleeing the the targeted attacks .