Sudanese Sugar Company to Begin Exporting Ethanol to the U.S.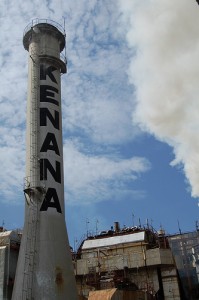 Sudan's Kenana Sugar Company (KSC) could soon begin exporting Ethanol to the U.S.
The trade is set to begin once the potential American buyer receives the necessary clearance from the US Office of Foreign Assets Control (OFAC).
KSC's managing director, Mohamed Al-Mardi Al-Tijani, disclosed this during the launch of the company's sugar production season No. 35.
He also told journalists that KSC is already working with several American Companies in the fields of design, logistics and agricultural operations to implement the al-Radees Sugar project. In total, the company is working with 18 American companies who are licensed by the US Office of Foreign Assets Control.
Earlier this year, KSC announced plans to increase its annual ethanol production from 65 million litres to 200 million litres per year. This came after the Sudanese government formally recognized 10% ethanol mixed into petrol as a fuel. The planned increase in Ethanol production will enable the sugar company to continue exporting ethanol, while keeping up with local demand.
Al-Mardi however told Journalists that the U.S. economic sanctions could affect KSC's production operations because most of the harvesters used by the company require spare parts from the U.S. in order to operate at full capacity. He explained that the sanctions were making it difficult for Sudanese products to enter the U.S. market which he said has a 30% relative advantage compared to other markets. Sudanese companies have also been denied access to financing due to the US sanctions.
America first imposed trade and economic sanctions on Sudan in 1997 following allegations that the African country was connected to terror networks and was perpetrating human rights abuses. The sanctions were further reinforced in 2007 after the genocide in Darfur. However, in 2010, Washington decided to ease sanctions on agricultural equipments and services, enabling about six companies to obtain export licenses.
Kenana Sugar Company began exporting ethanol in December 2009 when it made its inaugural shipment of five million litres to the European Union (EU). It's currently the second biggest exporter of non-water ethanol in Africa after South Africa. Last year the company exported 40 million litres of ethanol to the EU making it the biggest player in the EU's Everything but Arms (EBA) initiative.