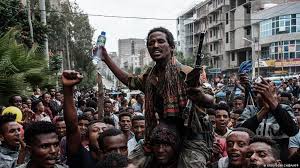 Ethiopian army dislodges Tigrayan forces from Chewber, Bermariam
The Ethiopian army on Monday dislodged forces loyal to the Tigray People Liberation Front (TPLF) from Chewber and Bermariam areas in the latest counter offensive. 
Heavy fighting between the two forces has continued in Maitsebri and Tselemt fronts since late last week as the Tigrayan forces have been trying to penetrate to the westward direction.                
According to the Gonder Communications Bureau, the federal forces have destroyed a fortification which TPLF forces built at a place called Ambagulay after hours of fighting. 
Information reaching Zegabi.com said the TPLF fighters are engaged in targeted killings and forced displacement against ethnic Amhara people in Alamata town. 
The Tigray Media Sunday declared the recapture of Alamata town by TPLF forces two days after Ethiopia's Government announcement of the chasing  TPLF fighters from the town and surrounding areas. 
Ethnic Tigrayans in Alamata town are engaged in massive looting of properties belonging to the Amhara people in the town, sources told Zegabi.com.  
TPLF has regrouped its troops in Alamata to launch fresh offenses toward Kobo and other towns using the government's decision to halt  marching to Tigray as a good opportunity.
Meanwhile, Ethiopian Airlines announced it is in the final stage to return the B737 MAX Fleet to sercice with the first expected on 01 February 2022. 
Ethiopian Airlines Group CEO Tewolde GebreMariam said "Safety is our top most priority at Ethiopian Airlines and it guides every decision we make and all actions we take.
"It is in line with this guiding principle that we are now returning the B737 MAX to service," he said