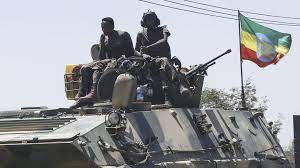 Ethiopia: Tigrayan forces pushed in Tselemt front after heavy fighting
The Ethiopian army pushed back Tigrayan forces which had tried to gain ground on Wolkait areas after heavy fighting.
Information reaching Zegabi.com said the fighting is still going on at Tselemt front where Tigrayan fighters suffered devastating defeat in air strikes.
The TPLF forces Sunday morning also launched another attack at the Maitsebri front but witnesses said undisclosed numbers of their fighters were killed  in air strikes.
Forces of the Tigray People's Liberation Front (TPLF) lost a fortified trench in the Maitsebri front after three hours of fighting, according to  military sources.
Tigray forces also have been pushed out of Abala town in Afar regional state after 16 hours long heavy fighting.
A TPLF force known as "Army 8" was routed in the Afar front. "Army 8" had managed to control part of Abala town until late Saturday after  killing civilians by heavy artillery.
The national army along with the Afar Special Forces finally regrouped and chased the Tigrayan forces out of the town.
Meanwhile, the Amhara region of Ethiopia will demand the federal government to cover the cost of war in parts of the region, which were under the control of TPLF forces. , Gizachew Muluneh, the head of the region's communication bureau head has said.
Due to its geographic location, adjacent to Tigray region, the Amhara region claimed that the war has cost it hundreds billions of birr.
Following the unilateral ceasefire and withdrawal of the government forces from the Tigray region in June 2021, Amhara and Afar regions are worst hit by the fighting,
Federal government must cover the cost of the war. We'll identify that and put in our request," Muluneh was quoted as saying.