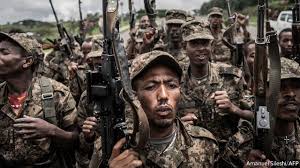 Ethiopia's military continues air strikes against Tigray forces
Ethiopia's military has continued air strikes in Mekelle, capital of Tigray region and Korem town amid halting the ground fighting.
Information reaching Zegabi.com said the airstrikes in Mekelle allegedly targeted firearms' warehouses and places where TPLF leaders were probably hiding.
Undisclosed numbers of TPLF fighters reportedly were killed in drone strikes in Korem town as they were running away in convoys along with looted items from Lasta and Waghimra areas.
Late Saturday, heavy fighting restarted at Walkaite front and the Amhara forces are fighting against the well armed and organized TPLF forces.
Witnesses told Zegabi.com that the Ethiopian National Defense Forces are out of the fresh fighting at Walkaite saying they did not receive "command to fire".
Similarly, Tigray forces opened fresh attacks in western Ethiopia from neighboring Sudan to penetrate and join the Walkaite front but were pushed back by the joint Ethiopian forces.
The Tigray forces also regrouped and launched attacks on the Abala town, seat of the north Afar zone.
It is learned that TPLF fighters fired heavy artillery and killed civilians there. Large numbers of residents have fled the Abala town. According to witnesses, the TPLF forces recaptured Abala town.
Meanwhile, More than 313,000 people who were displaced from different towns  following TPLF aggressionin Wello returned to their homes, the Amhara region's Disaster Prevention and Food Security Coordination Commission announced.
Public Relations Head of the Commission, Iyasu Mesfin disclosed more than 2.3 million people in Amhara region were forced to flee their homes as TPLF had taken control of towns after towns.