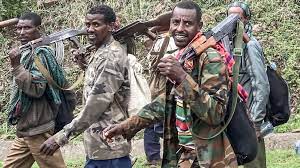 TPLF vows to continue fighting amid restraint of government forces
The Tigray People's Liberation Front (TPLF) said it would continue fighting, hours after the Ethiopian government announced a decision that its forces will not cross to the Tigray region.
"The enemy forces have shown no restraint and interest for peace and continued fighting in south Tigray, rejecting the call for peace by the Tigray government" said TPLF in a statement.
The statement further said the Eritrean army shelled North West of Tigray and hence we are forced to continue the fighting. TPLF called for an "all out war" to defend Tigray from what the statement referred to as "invading forces"
Government Communication Service Minister Legesse Tulu Friday said government's decision not to advance to the Tigray region aims at avoiding attacks against Ethiopian soldiers by the people of Tigray as was the case during the previous law enforcement operation in the region.
The government's decision also intends to avoid TPLF leaders from engaging in political plots involving the use of dead bodies of TPLF fighters in battlefields as victims of their planned fabrication of genocide in the region, Tulu said.
Information reaching Zegabi.com indicates that TPLF has launched offensives in three fronts namely Alamata, Matseberi and Walkaite fronts.
Meanwhile, Prime Minister Abiy Ahmed said in the recent operation, the nation has effectively shattered the aggression carried out by TPLF which stood in defiance of the unilateral ceasefire in a more coordinated manner with help of advanced technologies.