Kenyan police summon 2 journalists over Westgate attack report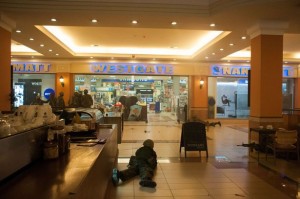 A senior criminal investigation officer has confirmed that two journalists and the Chief Executive Officer of Standard Digital's Kenyan Television Network (KTN) have been summoned by the Kenyan Police to answer questions over a report aired on the network about the Westgate mall attack.
The journalists John-Allan Namu and Mohammed Ali, as well as their CEO Sam Shollei, are scheduled to appear at the police offices on Monday to make statements.
The report, which was aired last Friday, included a comment that four terrorists may have escaped the building during the raid to free hostages. The report also included the famous CCTV footage of Kenyan military officers with shopping bags inside the Nakumatt supermarket.
There have been a lot of conflicting reports about the details of the Westgate incident since the attack ended about a month ago. Yesterday, Police Chief David Kimaiyo cautioned the media against creating reports which provoke propaganda, incite Kenyans or amount to hate speeches.
He said the police is "looking within the law very closely for those individuals who in one way or another might have committed crimes."
He promised that guilty persons would "be apprehended and appear before the court, and face the consequences of this [their reports]."
While the Police Chief's statement has been applauded by many, others have criticized the move as being despotic. According to a statement from the Law Society of Kenya, the warning by the Inspector-General is an attempt to interfere with the "constitutional right to freedom of the media and expression."
The group argues that the entire nation was thrown into a state of confusion following the attack and many non-factual statements may have been made. They go on to implore the government to create a competent commission to investigate the attack and reveal exactly what happened, rather than hunt journalists.
Following the deadly attack which left close to 70 people dead, the Kenyan police chief says the agency is considering arming civilians to protect themselves.
"A cursory glance at the Westgate siege confirms that armed terrorists with high caliber weapons will inflict unprecedented damage if majority of shoppers are armed only with a cell phone and car keys," he said.
Today, Police Chief David Kimaiyo confirmed that, in addition to the four bodies yet to be identified, the Police have eight suspects in custody. The Police Chief also revealed that the agency was, until recently, not aware that Samantha Lewtwaithe, who is wanted by the Kenyan Police, had rented an apartment close to the Westgate mall.
In anticipation for a marathon in Nairobi on Sunday, Kenyan security officers are expected to increase their presence in major locations across the area the event will take place. Nairobi Deputy Police Chief, Moses Ombati says "We don't want a repeat of what happened at Westgate, which took all of us by surprise."
Photo by AFP