Ethiopia signs deal for a $4 billion geothermal power plant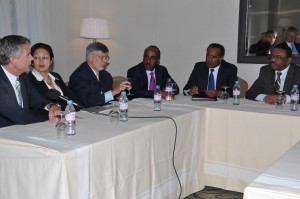 Ethiopia has entered into a deal worth $4 Billion with American-Icelandic Company, Reykjavik Geothermal, for the development of a 1000-megawatt geothermal farm.
The project, which is set to become Africa's largest Geothermal power plant, will be located 200 kilometres south of Addis Ababa. It will provide reliable energy for both local consumption and export in a country that is prone to erratic weather patterns and fluctuations in oil prices.
Speaking during the signing of the deal, Reykjavik's chief executive officer Gudmundur Thoroddsson said "this is an epic moment for all of us… bringing Ethiopia to the forefront of geothermal development."
Ethiopian Electric Power Corporation CEO, Miret Debebe, said the geothermal project would also boost "trade with neighbouring countries."
Reykjavik Geothermal will fund 75 percent of the project, while the remaining 25 percent will come from private investors. The initial 500MW phase of the project is expected to be completed by 2018, while the second phase should be complete by 2021. Reykjavik Geothermal has been developing geothermal resources in "underserved" markets since 2008.
Ethiopia's Minister of Water, Irrigation and Energy Alemayehu Tegenu, told delegates at the Great Rift Valley Energy Summit in Addis Ababa, that "Africa needs to open up to bring in the benefits of accelerated development to its peoples through availing sustainable energy supply."
Energy sector ministers and private sector players from all over Africa have gathered  in Ethiopia for the two-day Great Rift Valley Energy Summit, where they will share experiences and learn best practices in addressing challenges in the energy sector.
Ethiopia has a huge wealth of renewable energy including a potential 45,000MW from Hydro Power, 10,000MW from geothermal energy, 1.3 million MW from wind energy and abundant solar energy sources. Several hydropower dams including the Grand Renaissance Dam on the Nile River – Africa's largest dam- are currently under construction.
The country's heavy investment in renewable energy including wind, solar and hydropower is part of its climate resilient green economy strategy. The strategy is designed to propel the country to middle income status with low carbon emissions by 2025.