ICC permits Bensouda to add 2 more witnesses in the case against Kenyatta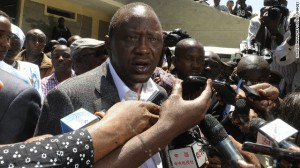 Today, the International Criminal Court (ICC) granted chief prosecutor Fatou Bensouda's request to include two more names to the list of witnesses in the case against President Kenyatta.
This comes after witness P-426 chose to withdraw from the trial. The prosecution argues that, despite submitting the names months after the January 9th deadline to disclose the list of witnesses, these two witnesses have inputs to contribute to the case that would help the court come to a fair and balanced ruling.
According to reports, witness P-66 is being brought in to replace witness P-426. While witness P-548, a Mungiki insider, is being brought in to provide some new facts.
Many media outlets have commented on the dilemma Bensouda faces as she decides whether or not to appeal the decision that grants Kenyan President Uhuru Kenyatta the right to be absent from the Hague during some sessions of his trial.
Her decision would be made against mounting pressure on the ICC from the African Union over the trial of President Uhuru and his Deputy William Ruto. The AU and Kenya have formally called on the U.N Security Council in an effort to gather support to stop the ICC's prosecution of the Kenyan President and his Deputy. Short of stopping the ICC's prosecution of his case, Kenyatta's defence team are calling for the trial to be deferred for at least one year to allow the Kenyan head of state deal with other pressing issues.
Many observers had speculated that Bensouda would appeal the decision as she did in the case against the Kenyan Deputy William Ruto. However, given the state of the relationship between the AU and the ICC presently, observers say appealing the decision would only give the defence more armoury in its campaign to move the case from the ICC.
On Monday, the Prosecutor's office stated that before the decision is made, they would have to study the ruling by Judges Chile Eboe-Osuji and Robert Fremr as well as the dissent opinion of Presiding Judge Kuniko Ozaki, which was critical of the ruling by the majority.
"The Office of the Prosecutor is still studying the decision," Bensouda's office said on Monday.
"She has not indicated whether or not she will appeal the decision. As you know, the decision came out late on Friday," the coordinator of the ICC Kenyan outreach, Mariah Kamara, said in a statement yesterday.
President Uhuru's trial is scheduled to begin on November 12.