Somali museum opens in Minneapolis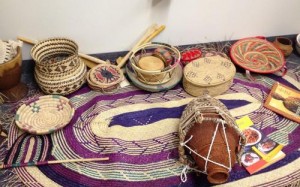 A Somali artefact and cultural museum opened on Saturday in Minneapolis at an event attended by many Somalis and non-Somalis.
The museum, which showcases Somali art, culture and way of life, is the first of its kind in North America. About 350 artefacts – including paintings of nomadic life, photos of Somalia's capital city of Mogadishu, jewellery, weapons, traditional rug, hand-carved utensils, functional items like water and milk containers and ancient writing tablets – are on display at the new museum.
The items are placed throughout the museum's five rooms; each room with a different theme. The 'War and Peace room,' for instance contains weapons – including spears, bows and arrows – on one side and musical instruments on the other.
The museum's owner Osman Ali collected all the items on display over a period of five years starting in 2009. In this time, he made five trips to Somalia to visit his ailing father and brought back a few items for the museum with each trip.
He also went on national radio and TV stations in Somalia and asked people to collect and send items for the museum project. The museum's outreach director Sarah Larson said they are still cataloguing the items, but had decided "to get open and make this available to the community."
Ali established the museum out of a desire to protect the artefacts from being destroyed due to the turmoil in Somalia. He also wanted to teach young Somalis what nomadic life in Somalia was like as more Somalis are abandoning the traditional lifestyle and migrating to cities.
Before setting up the museum, Ali showed his collection at libraries and schools. He hopes that the Minneapolis Museum will become a place where parents and teachers can take Somali-American children to learn more about their native country and reclaim their heritage. The museum will remain open from 9 a.m. to 5 p.m. on Mondays, Wednesdays and Thursdays and visitors will be able to access it for a fee.
Twenty years ago, Mogadishu was home to the world's only Somalia culture and history museum, which has since been destroyed by war.