Kimmeto and Jeptoo win the Chicago marathon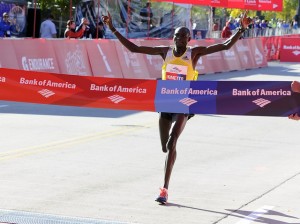 Two Kenyans Dennis Kimeto and Rita Jeptoo won the men's and women's races in the Chicago Marathon competition on Sunday.
Kimmeto shattered the record after he completed the 42-kilometer race in just 2:3:45 – 53 seconds faster than Ethiopia's Tsegaye Kebede's record last year. This is his second win this year after he won the Tokyo Marathon in February.
Kenyans dominated the men's race taking the top three spots. Emmanuel Mutai finished second after running the course in 2:03:52 and Sammy Kitwara finished third in 2:05:16. Four runners, Kimetto, Mutai, Kitwara and Kogo had pulled away from the rest at the 19th mile mark, but the later two couldn't keep up.
Jeptoo, finished the 26.2 mile women's road race in 2:19:57 with a wide grin and waving to the crowd. There was a significant distance between her, another Kenyan, Jemima Sumgong Jelegat, who came second with 2:20:48, and Russia's Maria Konovalova who placed third.
Commenting on her win, Jeptoo who also won the Boston Marathon in April said "Last year and this year, I'm really doing well. When I ran Boston again, I saw my dream is coming. This is my happiness."
All winners will receive $100,000 but Kimmeto will get an additional $75,000 for setting a new record. Jeptoo will also receive an extra $40,000 for running the race in under 2:20:00.
The Chicago marathon is the first major marathon through a major city in the U.S. since the Boston Marathon bombings. A record 40,230 athletes turned up for Sunday's Marathon leading the competition to be categorized as a "level two" event.
There were more than a thousand security officers and federal agents from Home land Security at the event using high-tech surveillance and monitoring equipment as well as bomb-sniffing dogs to ensure the safety of runners and spectators.
A 30-second moment of silence was held at the beginning of the event in honour of the victims of the Boston tragedy. The executive race director, Carey Pinkowski, described the Marathon as a celebration of humanity saying that he "thought everything went really, really smooth."