Addis Ababa: 2 suspected terrorists killed while making bomb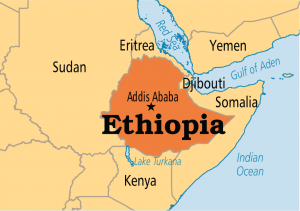 The Ethiopian Information Ministry has confirmed that two Somali nationals were killed in a bomb blast at their home in Addis Ababa yesterday.
They were reportedly in the process of manufacturing the bomb before it exploded.
The two men of Somali origin had rented an apartment in Bole district; an area known to have a high percentage of Somali nationals.
Since no group has claimed responsibility for the attack, the motives of the dead men are unknown and it is unclear if they have any accomplices in the area. However, authorities told the press that an investigation would be made into the incident.
The blast occurred a few miles from a stadium packed with fans purchasing tickets for the game between the Wayla Antelopes of Ethiopia and the Super Eagles of Nigeria. It is unclear if the dead men were planning to attack the stadium or any other place fans had gathered to watch the match.
This attack comes after last month's deadly attack on the Westgate mall in Nairobi which displayed the increasing power of Al Shabab despite a concerted effort to eliminate the terrorist group.
Ethiopian authorities say they have stopped several similar plots in the past in Bole. Last month, police officials uncovered two home-made explosive devices in the Addis Ababa Bole International Airport, fortunately, before they exploded.
The Ethiopian government, along with other east African nations, have been under attack from Al Shabab for donating troops to African Union's AMISOM mission in Somalia.
This attack comes not long after the Ethiopian government reduced the number of its troops in Somalia. According to the authorities, the decision was made because relative stability had been achieved in the country. However, Ethiopian authorities insist they do not plan to completely leave Somalia any time soon.