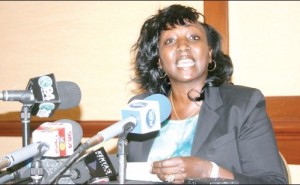 The Chief Registrar of the Kenyan Judiciary, Gladys Boss Shollei has demanded a public audit of her office as well as the Judicial Service Commission set up to investigate charges of embezzlement and insubordination levelled against her.
In a letter from her lawyer Donald Kipkorir to the Chief Justice Wily Mutunga, she argued that the case against her and the resulting disciplinary process had been carefully premeditated to be used to topple her from office. According to her lawyer, the first step is to destroy her image in the eyes of the public, before pushing for her arrest and eventual dismissal.
Mrs Shollei had been given a 21 day period to provide evidence to disprove the charges levelled against her. This period ends tomorrow. Earlier her application for an extension of the submission of her defence was declined by the Chief Justice.
According to her lawyer, Mrs Shollei demands to be tried by a statutory body such as the Ethics and Anti-Corruption Commission or the Public Procurement Oversight Authority.
The plot in this saga got thicker when leaked emails between the Chief Justice and other key judicial figures revealed they were indeed working on a "war strategy" to depose Mrs Shollei. Although the release of the private email conversations can be said to be illegal, the public's interest can be said to override those of the CJ and his colleagues.
Still, some people have described the release of the email conversations as a ploy to stall the investigation by Mrs Shollei. However, she has repeatedly defended her record saying  she always strove to act in the interest of the nation in her official capacity and she is ready to prove this to the Kenyan people.