ICC Extends Ruto's Break to Wednesday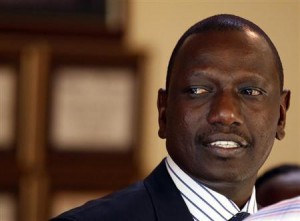 The presiding Judge of the ICC Chile-Eboe-Osuji has declared that the trial of Kenya's Deputy President William Ruto will continue on Wednesday next week. This comes after the September 21st attack to an upscale mall in Kenya's capital Nairobi.
Deputy President William Ruto is set to chair an interdenominational prayer service on Tuesday and the ICC's Trail Chamber V has deemed it necessary for him to be present.
Presiding Judge Chile-Eboe-Osuji said "The chamber believes that that service is an important event aimed at national reconciliation and healing given what had occurred. We note that recognition of such events is consistent with the motivations of even the Rome Statute."
Ruto's defence had initially requested for an extension to the break in the proceedings to October 14th. His legal team explained that this was to enable him attend a series of top level security meetings made necessary by the Westgate attack.
Karim Khan, Ruto defence counsel said "Mr. Ruto will be here whenever the court requires him to be here. That must be the starting position but your honour it is our application that in the unique circumstances pertaining at the moment and given the appeal's chamber decision rejecting the application to lift suspensive effect we do ask that the case be adjourned further."
President Kenyatta and his Deputy Ruto are facing charges for perpetuating crimes against humanity following widespread violence after Kenya's 2006/7 general elections. The clashes left an estimated 1,200 people dead.
Photo by in2eastafrica.net