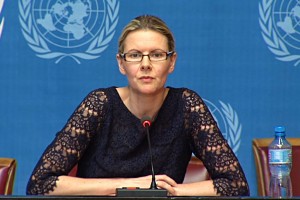 The United Nations has called on the government and people of Sudan to restrain from violence after reports yesterday reveal that 50 to 100 protesters were killed in clashes with security officers.
The spokesperson for the UN Office of the High Commissioner for Human Rights, Cecile Pouilly said the UN was "deeply concerned" about reports of deaths in Sudan since the protests began on Monday. She said "Security forces are reported to have used excessive force in suppressing the protests, with security agents allegedly firing live ammunition at some protesters and beating others."
She reminded the Sudanese security officers that they are bound by international law and are therefore prohibited from indiscriminately using their arms on civilians. "We call on all parties to refrain from resorting to violence and all protesters to maintain the peaceful nature of their demonstration" she said.
Photo by OHCHR