Kenyan Government Launch Investigation into Westgate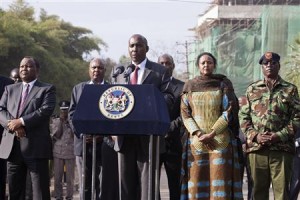 The Kenyan government has launched an investigation into the Westgate attack that claimed the lives of 72 people and left close to 200 injured. The investigation is being aided by the governments of Britain, Israel and the United States as well as Interpol.
Kenya is in a state of mourning as people troop to the Westgate mall to search for their missing relatives and identify the dead. Experts are reported to be carrying out mass autopsies on the bodies.
Kenyan Interior Minister Ole Lenku said he couldn't confirm or deny allegations that British and American nationals were among the attackers.
Today, Interpol deployed its Incident Response Team (IRT) to assist the Kenyan government deal with the aftermath of the attack. The Interpol team includes Disaster Victim Identification experts and other specialists well equipped to assist the Kenyan government sort the chaos.
Jean-Michel Louboutin, Interpol's Executive Director of Police Services and head of the Incident Response Team sent to Kenya said "Interpol's role is to help coordinate the international response in support of the Kenyan authorities as they investigate this horrific incident, and to assist their actions at the regional and international levels."
Al Shabab leader Ahmed Godane released his first message to the public after the attack via www.somalimemo.net recently. In it he confirmed that the attack was in retaliation for the Kenyan government's 2011 boarder incursion. "Take your troops out or prepare for a long-lasting war, blood, destruction and evacuation," he said. True to his words, al Shabab are reported to have attacked two Kenyan towns close to the Somali boarder this morning.
To the grieving and confused Kenyan people, Godane said "You are part of the massacre Kenya carried out in Kismayu and in other towns because you had elected your politicians. The tax you pay is used to arm Uhuru forces [the Kenyan national army] that massacre Muslims. You had supported the fight against us."
On a positive note, the government of Kenya has called on the Kenyan people to find strength in unity. Vipool Shah, a volunteer who helped pull bodies out of the mall said "The good thing is that the whole of Kenya has become one, except for al Shabaab."
Photo by REUTERS/Siegfried Modola