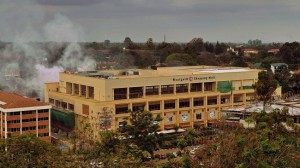 Several countries and international bodies including Interpol, African Union (AU), Germany, Canada, the U.S.A, Britain and Israel have offered to assist the government of Kenya deal with the aftermath of the Westgate attack.
During the battle, the CIA and Isreali forces were already on the ground to join Kenyan forces take over the mall. Today, U.S. Ambassador to Kenya, Robert Godec said "At the request of the Kenyan government, we [the U.S.] will provide additional assistance in the coming days to investigate this attack and to bring its organisers and perpetrators to justice." The U.S. Government confirmed that they are already providing technical and logistical assistance to the Kenyan government in investigating the attackers.
The AU also said it is waiting for the Kenyan government to give them an "assessment of the extent of their needs, and the African Union will respond accordingly." Erastus Mwencha, deputy chairman of the AU commission also added that the AU is "encouraged to see that a number of member states have already given their support and [are] willing to assist Kenya."
Today, security forces were still dealing with the rubble at the Westgate mall. Kenya Interior Minister said the team had finished searching for undetonated explosives and booby traps and have now "moved to the next phase."
Authorities say although they are yet to access the collapsed part of the building, it is very unlikely that the death toll – currently at 72 – will increase.
Not much information has been released about the arrested suspects – of the 15, we know 4 were killed and the others are in custody. This is contrary to al Shabab's claims that all the attackers died in the battle.
Interior Minister Ole Lenku refused to comment on the nationalities of the suspects. However, British newspapers have identified, Samantha Lewtwaithe, also known as the 'white widow' as a suspect in the attack. Lewtwaithe, who is currently on the run in east Africa, is wanted by Kenyan authorities for planning to to rob expensive hotels and restaurants.
Meanwhile, al Shabab continued their attack on Kenya today – this time via their new Twitter account. They tweeted "If Westgate was Kenya's symbol of prosperity, it is now a symbol of their vulnerability, a symbol of defeat and overall Kenyan impotence."
Late this evening, a faint cloud of smoke could still be seen drifting over Westgate mall as security officers made their way to and from the building. This attack no doubt raises a lot of questions about the security of African nations and the growing strength and wide reach of terrorists.
Photo by pressTv.ir