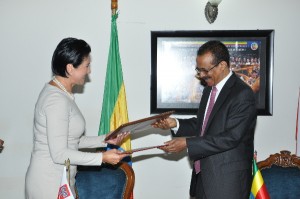 Ethiopia has entered into a cooperation framework agreement with Poland in an effort to boost bilateral relations between the two countries.
Ethiopian Foreign Affairs State Minister, Berhane Gebrekristos and Deputy Minister of Foreign Affairs of Poland Beata Stelmach agreed to further economic, political and social cooperation during an Ethio-Polish business forum held on Monday in Addis Ababa, Ethiopia. Present at the forum were several members of the Ethiopian Chamber of Commerce and 21 representatives from Polish companies that are seeking business and investment opportunities in the African country.
Berhane said that Ethiopia has long wanted to collaborate with Poland on bilateral and international affairs. "We are equally committed to work closely together with Poland in both bilateral and multilateral fronts," he said. We in Ethiopia have taken due note of the impressive progress achieved by Poland on the economic development fronts in what can be taken as a Polish economic miracle."
Despite the two countries having had an age-old relationship, they haven't had many investment ties between them. Currently, Trade volume between the two countries is currently worth US $13 million.
Stelmach on the other hand said that Polish investors were becoming increasingly interested in investing in various sectors in the Ethiopian economy – especially the agriculture sector.
We can see many similarities between the two countries (Ethiopia and Poland) in terms of the state of development and rapidness of development. So we are ready to share our experience and further strengthen our cooperation," she added.
Ethiopia is currently one of the world's fastest growing economies and Polish investors are hoping to gain substantial opportunities from the agreement.