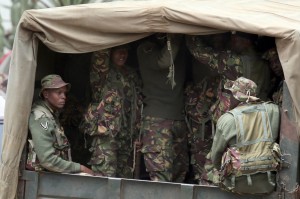 A British-Somali man has been arrested in connection with the just ended Westgate attack in Kenya. The British Foreign Office confirmed the arrest today, adding that the man, identified as Adbulrazak Sharif Ahmed, was arrested as he tried to catch a flight to Turkey at the Jomo Kenyatta International Airport.
According to the police, he had bruises on his face and was acting weird, this attracted the attention of the officers around and led to his arrest. The British Foreign Office spokeswoman said the British government was "making contact to offer standard consular assistance." Earlier there were conflicting reports that some of the attackers were foreign nationals. Currently there is no information on how the arrested man is linked to the attackers.
Although al Shabab claims responsibility for the attack, there are still a lot of unanswered questions about the origin of the attackers. Especially since the al Shabab has hitherto been unknown to posses the level of military skill displayed in the attack.
Ahmed, a Somalia-based intelligence officer, told Mail and Guardian that "They [al Shabab] have not been dying in the past two years. They have developed guerilla tactics instead of face-to-face fighting." An al Shabab spokesperson told Reuters today that the attackers were "well-trained special forces." But he failed to reveal any more information about the origin of the attackers.
As it stands there are two possible origins of the attackers. According to a Nairobi diplomat, the attackers were a part of al Shabab's supremo Ahmed Abdi Godane's special group, the Amniyat. Another theory has it that they are part of a special al Shabab unit known as the Iktihaam (an arabic term which means to storm in).
Until now al Shabab has been considered a Somali and east African problem, but after this attack they are likely to be viewed more in line with the global terrorist movement. U.S. lawmakers are already pushing to send troops to unsettle al Shabab in the stronghold in Somalia.
Photo by Roland Leon/ Daily Mirror