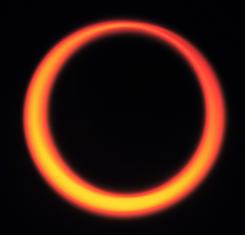 The Ugandan cabinet has officially approved a proposal to capitalise on the expected eclipse on November 3rd to promote tourism in Uganda.
This proposal was put forward by the Minister for Finance, Fred Omach, who is also the Member of Parliament for Pakwach – the region which will be the epicenter for viewing the eclipse. This hybrid eclipse will be a total eclipse, the most rare of the four types of eclipses, and will affect the eastern, western and central portions of the country. Besides Uganda the eclipse will also be visible in other countries including Kenya and Ethiopia.
The Ugandan Minister for Tourism and the head of the inter ministerial committee set up to oversee preparations for the eclipse, Hon Maria Mutagamba said Uganda, particularly Packwach was one of the best places to watch the eclipse. "It is rare to have such an opportunity," she said. "I call upon all Ugandans to do everything to promote Uganda as a Pearl of Africa with their various products manufactured here in the country."
The Ugandan government has already started repairing roads leading to viewing sites likes Pakwach, Anua, Soroti, Masindi and Gulu.
Just last month the Ugandan government turned away many tourists after it increased VAT for all hotel accommodations by 18%. Many tour operators and hotel managers are still peeved about that decision. Amos Wekesa, owner of Great Lakes Safaris said the Ugandan government "must understand that when you are operating in an unpredictable area like Uganda where other factors come into play, the bigger picture has to be taken into account. We are just recovering from the effects of last year's setbacks to the tourism sector (Ebola outbreak, Marburg and walk to work protests) which affected anyone who wanted to sell Uganda as a product."
It is customary for governments across the world to use spectacular occasions, like a solar eclipse, to promote their nations. Just last year Australia attracted over 40,000 tourists to witness an eclipse in Queensland.
Ayivu MP, Bernard Atiku said "We expect more than 20,000 tourists. But if we don't market it well, we may not get any benefits."
Photo by Khin Maung Win, AP