Kenyan President Confirms the End of the Westgate Mall Siege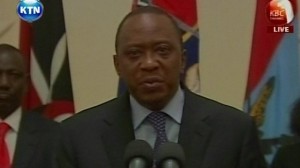 Kenya's president, Uhuru Kenyatta, has confirmed the end of the four-day siege on an up-scale shopping in Kenya and declared three days of national mourning.
He announced, in a televised address to the nation, that five terrorists had been shot dead by army officers and 11 other suspects arrested.
"I promise that we shall have a full accountability for the mindless destruction, deaths, pain, loss and suffering we have all undergone as a national family," said President Kenyatta.
"These cowards will meet justice, as will their accomplices and patrons, wherever they are," he added.
Officials from the Kenya police and the Ministry of Interior had announced on Monday night that they were in control of the mall and believed that all hostages had been released. They however did not give any further details.
The Kenya Defense Forces reportedly spent the fourth day "combing the mall floor by floor looking for anyone left behind."
According to reports from the Kenya Red Cross, 62 people were killed in the terrorist attack and 175 others injured. It is believed that at least 18 foreigners from Britain, France, Canada, the Netherlands, Australia, Peru, India, Ghana, South Africa and China were among the dead. Many others are receiving treatment for shock and counselling.
In a Monday interview on PBS Newshour, Kenya's Foreign Minister Amina Mohamed said that one attacker was a British citizen and two or three others Americans. A U.S. law enforcement official however said he could not immediately confirm the involvement of Americans in the attack.