Kenyan security forces round up Westgate operation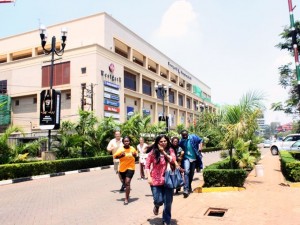 A combination of Kenyan defence and internal security forces are working to round up a deadly hostage situation which has lasted for over 24 hours in Westgate mall. Yesterday the attackers stormed the mall before throwing grenades and opening fire on the crowd. At least 60 people have been reported dead and over 170 injured.
The identities of the attackers remains unknown as they wore masks while they entered the building, but survivors say at least one of the attackers is a female. According to the Kenyan government, over 1,000 people have been rescued from the shopping centre thus far. People at the scene say heavy gun fire has continued to ring throughout the day.
Israeli security forces and the U.S's Federal Bureau of Investigation are both assisting the Kenyan government deal with the situation. For now the gunmen have made no attempt to communicate their demands. Kenya's Interior Cabinet Secretary, Joseph Ole Lenku said the Kenyan government was working to resolve the situation, he also added that the security forces are in full "control of the remote CCTV (Closed-Circuit Television) control centre."
Somali militant group al-Shabab claims responsibility for the attack. According to them, the attack was carried out to punish the Kenyan government for involving itself in the fighting in Somalia in 2011. The attack is meant to force the Kenyan government to permanently withdraw its troops from Somalia.
The Westgate Mall was opened in 2007 and is a favourite destination for Kenyan elites. There are over 80 Westgate malls in Kenya.
Photo by Jason Straziuso/AP