Kenya: ICC witnesses face death threats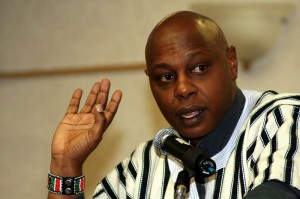 Numerous witnesses in the ongoing ICC trial have confessed to fearing for their lives and safety after receiving death threats.
In a conference last Friday, human rights activist Maina Kiai said militants stormed his Nyeri County home and threatened to incinerate it. Another witness whose image was reportedly posted on social media also complained of having received death threats. These complaints prompted the government to dispatch extra security detail to the witnesses.
Mr Kiai said these death threats are being inspired by "hate blogs" allegedly sponsored by the State House. According to him, this leads "to the irresistible conclusion that the President himself acquiesces with these attacks against Kenyan citizens and the constitution." He added that he would hold President Kenyatta "personally and criminally responsible should anything happen to my family, to me or any other human rights defender or activist."
Although the ICC has repeatedly warned journalists against revealing the identities of witnesses in ongoing trials, the public's curiosity seems to knows no bounds. The country is gripped with tension as the verdict from the trial threatens to alter the current state of politics in Kenya.
UN Photo/Jean Marc Ferré