39 killed in terrorist attack on Kenyan shopping mall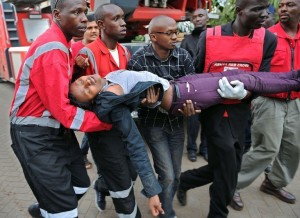 Masked gunmen yesterday stormed into a Kenyan mall at 09:00 GMT killing at least 39 people and injuring over 150 others.
According to witnesses, the gunmen who were wearing bullet proof vests and carrying automatic rifles threw a hand grenade into the mall and then began firing indiscriminately. Some shoppers fled the mall while others hid in the ventilation shafts or hurdled behind mannequins in the designer clothing stores. Several people were held hostage and it is suspected that some people are still trapped in the mall, more than 20 hours later.
Eye witnesses said that the attackers were speaking a language that sounded like Arabic or Somali. They allowed Muslims to leave the building and gunned down non-Muslims.
Al-Shabab, a militant Islamist group with ties to Al-Qaeda, claimed responsibility for the attack on Twitter making this the worst terrorist attack in Kenyan since the American Embassy was attacked in 1998. They claimed that the attack was revenge for the involvement of Kenya's military in Somalia. Al-Shabab's spokesman, Ali Mohamoud Rage, had earlier said in a radio address that "Kenya will not get peace unless they pull their military out of Somalia."
Kenya's President, Uhuru Kenyatta, said that the terrorists were cowards and stated that the country would remain "as brave and invincible as the lions on our coat of arms." He also pleaded with citizens to give blood and saying that some of his close family members had been caught up in the attack.
By Saturday night, Kenyan security officers had managed to corner some of the attackers on the third floor of the mall and rescue hundreds of terrified shoppers. One wounded assailant was captured but later died in hospital.On Sunday morning, an official from the Kenyan government said that they had secured the mall's upper levels but the attackers still remained in several locations within the mall.
Kenya police have cordoned off the mall and roads leading to the mall and are urging civilians to stay away from the area.