Ethiopia supports Kenya's intent to pull out of the Rome statute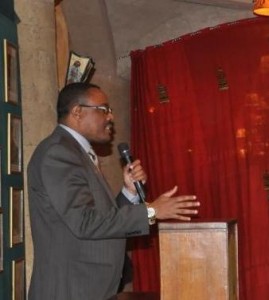 Ethiopia has come out in support of Kenya's push for African Union member countries to withdraw from the International Criminal Court (ICC). Ethiopia is the current chair of the African Union.
Government Spokesman, Redwan Hussein, said that the ICC was targeting African leaders. He went ahead to accuse the international court of "belittling and it's disparaging the African leadership" saying that his country stood with the Kenyan government.
There had been a growing backlash against the ICC from some African countries since the court made the decision to charge Kenya's president Uhuru Kenyatta and his deputy, William Ruto. Since the hague-based court was established in 2002, all official investigations have targeted African countries.
This has prompted some African leaders to refer to the court as a tool of western powers. Ethiopia's Prime Minister Hailemariam Desalegn had earlier this year accused the ICC of race hunting.
African leaders are set to meet in Ethiopia's capital of Addis Ababa in mid October and decide whether to join Kenya in its planned pull-out from the ICC. An AU official told Reuters that "The Kenyans have been criss-crossing Africa in search of support for their cause, even before their parliament voted to withdraw from the ICC."
Redwan however doesn't think there is a need to push other African countries to take up a similar position during the October meeting. He says the other African countries "don't need Ethiopia's urging or pushing them to take whatever action, because the feeling is already there in each country."
Kenya's parliament voted to withdraw from the Rome Statute which establishes the ICC. During the upcoming summit, African countries could decide to completely walk out of the Rome Statute.