Ethiopia and Sudan Meet to Discuss Border Security Issues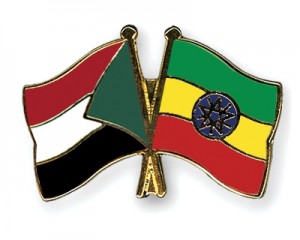 Defense ministers from Ethiopia and Sudan and other experts have concluded a three day meeting on cooperation between the two countries.
Colonel Al-Sawarmi Khalid Saad, spokesman of the Sudan Armed Forces (SAF), said that the meeting was mean to assess "aspects of cooperation between the two countries, based on the defence protocol signed by Sudan and Ethiopia in May 2009."
Ethiopia and Sudan have several defense cooperation activities in place including joint field patrols, information exchange and joint monitoring of threats along their shared border.
The joint committee acknowledged the efforts of both countries in curbing cross border crimes such as arms smuggling, illegal trade and contraband and human trafficking.
The existing action plan which is expected to be fully implemented by 2015 was reviewed and members of the committee recommended ways of improving joint security efforts.
Both countries also agreed to continue training their military on peace keeping and increase the intelligence and experience shared between the two countries.
They will also enhance border security by conducting more joint field patrols.
The meeting of the Joint Defence Technical committee will be held in February next year in Khartoum.